Final Coat Electromagnetic Corrosion Module
Installed How Does Electromagnetic Corrosion Work?
Fighting rust is a must. Despite advances in auto manufacturing, you need corrosion protection that goes beyond the manufacturer's limited rust warranty.
Final Coat offers the most advanced corrosion protection available, the CM-3000 electromagnetic rust inhibitor. And for today's Hybrid and Electric vehicles, the same unmatched corrosion protection is now available with the Final Coat BPH-5000 hybrid module.
What is electromagnetic corrosion protection?
Final Coat electromagnetic corrosion protection is a R.F (radio frequency) electromagnetic pulse wave (non-cathodic) signal which en- hances the galvanizing properties of your vehicles sheet metal.
How does the technology work?
The electromagnetic corrosion module works by emitting a carefully-designed, high frequency, battery-driven pulse wave that travels on both the inside and outside surface of the vehicle sheet metal. The pulse wave helps inhibit the corrosion process, which occurs naturally on any metal. Sprays cannot protect your vehicle from all forms of rust.
Puddle Light Logos
The perfect way to customize your vehicle is with an LED Logo Projector. We install the lights on any make or model with an image to personalize and enhance your vehicle.
Choose from over sixty preset designs including your favorite car logos or create a custom logo to distinguish your business with any image you wish.
Cilajet Car Protection
Paint Protection Warranty Coverage (New Vehicles – 5 years) (Pre-Owned Vehicles – 3 years )
• Acid rain, bird droppings
• Tree sap,sun's UV rays
• Loss of gloss, fading/chalking
• Insect damage, hard water spots
• Brake dust/rail dust, industrial fallout • De-Icing agents/road salts
• Accidental paint overspray
• Car rental reimbursement
Interior Protection Warranty Coverage (New Vehicles – 5 years) (Pre-Owned Vehicles – 3 years )
• Fast food & beverage stains
• Mold & mildew, fading or discoloration
• Cracking of dash
• Bleaches & dyes (fabric & leather surfaces
• Inks, chewing gum, crayons, lipstick, make-up
• Blood, urine, vomit
• Rips & tears up to 6" in length (fabric & leather surfaces)
• Burns & punctures up to 1" in diameter (fabric & leather surfaces)
• Car Rental reimbursement
Vehicle Eligibility – Ultimate Paint & Interior Protection Plan:
New Vehicles: Current +5 years old (no mileage limits) – 7 years of full repair, replacement , repainting including rips, tears, punct ures & burns for interior. Pre-Owned Vehicles: older than 6 years – 7 years of professional detailing of painted surfaces (wet sanding, buffing, polishing, reapplication), professional cleaning of interiors (stain removal, re-dying if unable to remove stains) includes repair for rips, tears, burns & punctures.
Heated Seats
Enhance your comfort in your car with our seat heaters and cooling systems. For weather as unpredictable as Iowa's, adding these features can improve your driving no matter what season it is. Willis Auto Accessories has top-quality seat heating and cooling systems to add to your vehicle.
Heaters can be installed in nearly every vehicle. Our seat heaters combine the advantages of modern carbon fiber technology and highly sophisticated electronic controls to produce one easy to install kit. Heated seats provide therapeutic comfort and convenience to the everyday driver as well as personalized applications.
Seat Cooling Systems provide superior seat ventilation in all hot weather conditions. Four fans generate cool, comforting air flow on the thighs and lumbar region to reduce sweat and humidity on the seat during the summer months. Not only does this make you more comfortable when getting in your scorching car, it also protects your interior by reducing the amount of moisture on your leather seats. The universal kits fit all cars, trucks, SUVs, RVs and more. These are eco-friendly since they reduce air conditioner consumption. Not only that, but you can also add our specially designed perforated seat heater pads to the system so you can still stay warm in chilly weather.
Leather Interiors
Enhance the feel of luxury in your car and upgrade your cloth interior to leather interior. Willis Auto Accessories has the highest quality leather to install in your vehicle to make it look years newer and improve your driving experience.
We have a wide selection of styles so color options vary. We also basic OEM match the leather interior to your car.
To give you the maximum customization, we have a wide variety of colors available to choose from as well as perforated leather and colored piping.
Need to add even more to make your vehicle stand out? Custom logos available for an additional charge (price for logos varies based on royalty fees).
Body Side Molding
Stray shopping carts take note. Sleek and amazingly durable, body side moldings from Willis Auto Accessories feature a high-quality body-color finish and are rigorously tested in extreme climates for impact and chip resistance. They're also designed to resist peeling in high-pressure washing and normal environmental exposure. By helping to protect the door from scratches, dents and chipping, this premium accessory helps retain the vehicle's resale value. We can fit your car to get a custom mold and install it on your car quickly. Protect your investment in your vehicle for years to come with body side molding from Willis Auto Accessories of Des Moines!
Radar Detectors
K40 Platinum 360 Radar & Laser System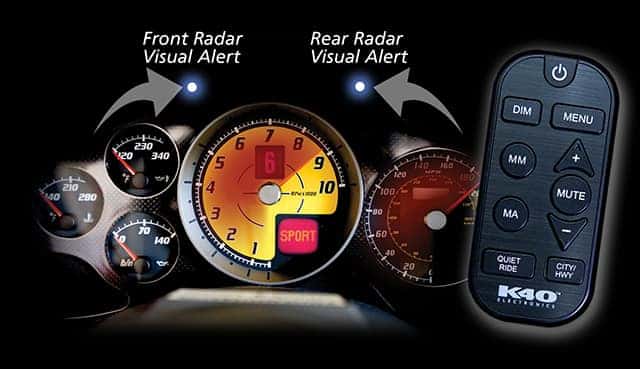 Features designed with you and your vehicle in mind. Giving you the ultimate in custom installed speeding ticket protection and putting you in control of where and when you hear police radar and laser alerts. With K40, you're ready to drive without limits as soon as the products are installed. 
The Latest Technology for Long Range Protection – The Platinum360 features evolutionary enhancements which inspire confidence that you are protected by the very best speeding ticket protection system available today.
All new LNA (Low Noise Amplifier) radar receiver technology that increases sensitivity and range.
A more powerful CPU for a more responsive system and greater customization capabilities.
Three I/O ports for current integration and future system expansion.
Directional Awareness – The Platinum360 features front and rear LNA (Low Noise Amplifier) radar receivers that provide maximum directional range and sensitivity.  Custom installed alert LED's and a hidden speaker let you know the specific band of police radar being used as well as whether the threat is in in front or behind you.
OEM-like Custom Installation – The Platinum360 retains the original factory appearance of your vehicle's interior.  A wireless remote control along with strategically installed directional LED's hidden in your dash and a hidden speaker make this system undetectable.  You only know it's there when you need it. RDD (radar detector detector) protection included so even the police won't know you're driving with a "ticket-free" co-pilot.
GPS Features – The Platinum 360 offers you full customizable GPS technology features such as:
Mark to Mute – Mute audible warnings of false, non-police radar locations you regularly travel past with a simple push of the MM button on your remote control.
Mark to Alert – Mark locations to alert such as dangerous intersections, speed traps, school zones, and red-light cameras by pressing the MA button.
Speed Monitor – Track your speed without taking your eyes off the road and be alerted if you exceed your pre-selected speed.
Quiet Ride – Mute all alerts under a pre-selected speed.  Eliminates alerts when you are driving at or near the posted speed limit (Default setting is 20 mph).
Auto Filter – Sensitivity automatically adjusts to the optimum setting based on your vehicle's speed. This "set it and forget it" option means you always have just the right amount of protection. Less sensitivity at lower speeds means less false alerts, and increased sensitivity at higher speeds means more time to slow down and avoid that ticket.
Advanced Filtering – The Platinum360 is packed with advanced filtering technology to make it the quietest and most dependable radar and laser defense system available today.
K-Band Filter – Automatically rejects false alerts from radar-based safety features like Collision Avoidance and Lane Departure Warning from other vehicles (including your own).
Traffic Sensor Filter – Rejects alerts from traffic flow sensors usually encountered during highway driving.
Ka-Band Filter – Enables filtration of non-police Ka-Band radar signals, e.g. other radar detectors and satellite broadcast bands.
Radar Band Selectivity – The Platinum360 now offers you the option to choose specific band frequency ranges that you wish to be alerted to.  Make the drive even quieter by honing in on specific frequency ranges used only by a police officer's radar gun.
K-Band Narrow/Wide/Extended – Allows you to customize the frequency range of K-Band radar signals your system scans and alerts for.
Ka-Band Narrow/Wide – Allows you to customize the frequency range of Ka-Band radar signals your system scans and alerts for.
K40 Laser Defuser® Protection – Become invisible to police laser guns.  The Platinum360, combined with the combat power of Laser Defuser transponders, delivers the ultimate in bumper-to-bumper speeding ticket protection.
Show-N-Go Retractable License Plate Frames
Choose from manual or remote controlled (motorized) version. The Show N Go retractable license plate frame is an innovative product that allows you to hide your front license plate away when you want, and show it when you need to.
On the manual version, a simple one hand motion is all you need to retract and stow the license plate or to pull it out and allow it to swing up into the display position.
On the motorized version, we offer an even easier solution – simply press the button on the included remote control and the Show N Go will move the plate into position automatically. The transport mechanism included with this kit uses a stainless steel torsion spring that keeps the mount in the stored position and also allows it to move into the displayed position. Go from hidden to shown in seconds.
Tow Hitch
The Willis Auto Accessories Department offers high-end trailer hitches and other towing products. We carry a wide range for most manufactures from Land Rover, MINI, Cadillac, Infiniti, Jaguar, Volvo, Lexus, Chevy, GMC, Honda and Toyota just to mention a few. Count on the Willis Accessories Team to deliver all of your towing accessories and trailer hitch products.
Bike Racks
Off-road or on-road. Whether it's just you or a full carload of friends and family, get your bikes wherever you're going with a bike rack – quickly, easily, and safely.
We carry a large selection from roof mounted bike carriers, hitch mounted carriers, rear door mounted carriers, spare tire carriers, truck bed carriers and more…
Spoilers & Grilles
Willis Auto Accessories offers a wide range of spoilers for many makes and models. They bring style and an aura of high performance to any vehicle, showing your good taste and unique style. Spoilers add a tasteful touch of aerodynamic class that cannot be offered by any other product.
Factory-style spoilers replicate the look and shape of the OEM spoiler. They appear as if your model rolled of the line with it already in place.
We also offer a variety front grille options for your vehicle. Grilles make vehicles instantly identifiable, while the right custom grille can disguise a vehicle, giving it a whole new identity.
Navigation Systems
No longer is it necessary to pull out the big road atlas to find the best route to a destination. Whether it be across town or across the nation, an auto GPS system makes it easy to find just about any place. Hit the highways and never look back. We offer an easy-to-use GPS for most vehicles and every budget.
Window Tint
XPEL Window Films block nearly 100% of UV rays, reducing glare and protecting you and the interior of your vehicle, while adding a sophisticated look to your ride. Depending on what XPEL film is used and how much of your car you tint, prices begin at $149.
Get XPEL Window Tint from Willis Auto in Des Moines
We all know how important it is to protect a car from damage. In order to protect our investments and increase a car's lifespan, many of us will do anything to make sure our cars have the right protective measures. Window tint is just one of these measures that will not only improve the way your car looks but also make your car safer. Window tint blocks Ultra Violet (UV) rays which can damage your upholstery over time. XPEL window tint from Willis Auto Accessories in Des Moines can help with the care and maintenance of your car's interior.
Protect your car and family with XPEL Window Tint from Willis Auto
Not only will it keep your interior looking like new, UV rays can also be harmful to your skin so window tint protects you and your family and makes it easier to see the road when driving. The Skin Cancer Foundation recommends XPEL PRIME CS and XPEL PRIME XR Window Tint as an effective UV protectant. Tinting film for your car's windows can reduce glares which helps with daytime and nighttime visibility. The density of the tinting can cut the glare from the sun or the glare from other vehicle's headlights. In the winter it helps with the bright glare from the snow. As a driver, window tint can improve your safety and your ability to see clearly when driving.
Window tinting can help protect your privacy. XPEL window tint makes it difficult to see what's inside your car. Burglars will look suspicious if they cup their hands and have to stare intently to see outlines of what you might have to steal in your car. This would alert others in the area which would make it more likely for the burglar to get caught. Not only does it protect you from theft, but if you are involved in an accident the tinting film can help keep the glass from shattering or keep the shattered glass together instead of falling onto passengers. Contact the Willis Auto Accessories team for more information on XPEL Window Tint today.
Block heat and UV Rays with XPEL Ceramic Film
For intense heat rejection and UV ray blocking, XPEL PRIME XR blocks 99% of UV rays and 88% of infrared heat. Utilizing a nano-ceramic construction, PRIME XR maintains the same flawless appearance and clarity throughout the years. Both UV rays and intense heat are incredibly hard on your car's interior features and any belongings you might have in your car. XPEL PRIME XR Film from Willis Auto Accessories in Des Moines protects your car's interior and increases comfort of you and your passengers, especially in warmer months. To prolong the life of your interior, XPEL PRIME XR. Contact Willis Auto Accessories for more information on tinting options, installation procedures and pricing.
Warranty
XPEL PRIME window films are made with only the highest grade materials through a state of the art process. For most automotive applications XPEL PRIME films are made to last the lifetime of the vehicle if maintained correctly and are backed with the industries only lifetime transferable warranty. Contact Willis Auto Accessories of Des Moines for warranty guarantees on XPEL PRIME Window Tint.
Iowa Tint Laws
Each state has different laws regarding the tinting of vehicle windows. For more information regarding the tinting laws in Iowa, take a look at the information below.
https://iowadot.gov/mvd/resources/windowtintingstandards.pdf